Wash - Groom - Reward!
Easy access steps for your pup, and your choice of shampoos, conditioners, or flea treatments built right into the nozzle.
Built in fur dryer, or towels to dry your pup. Scissors, brushes & combs available if you want to give them a quick trim.
Treats are available at all our stations to reward good behaviour! After you're done feel free to use our complimentary pet scale before you leave!
Did we mention that our dog wash station is also part of reward program? Every 7th wash is FREE!


How It Works
Purchase a token at the front counter for $10
Lead your dog into the tub
Secure your dog with the catch-chain
Insert the token & the machine will run for 12 minutes
Select your wash cycle with the touch pad
Wash your pup!
Select the dryer option and dry your pup
Reward your pup with a treat!
Please Note: If your dog has been skunked, we ask that you please use a skunk remover product at home before bringing them in for a wash. K9000 stations not available at all locations. A fully equipped bathtub will be available at locations without a K9000. Additional time may be purchased at a rate of $1/min.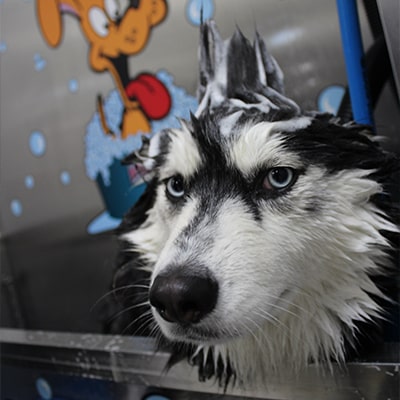 Self Serve Dog Wash